Spirit Award
CRITERIA
From Roberta Barens, Feb 2015
The spirit award is intended to recognize a member of the chorus that quietly works behind the scenes to better the overall experience for the chorus members. She usually prefers to go about her business without looking for or wanting recognition.
Dolphins were chosen to symbolize this as they work together for the betterment of the whole pod. They play together, travel together, and work together for food. They look out for each other to stay safe and to assist each other.
This was established so that it can only be won once. (As we know, the same people tend to be the ones that could win it every year. I hoped the award could be a little incentive for a little more involvement by everyone for the chorus)
While everyone can nominate a fellow member, it is the previous winners that decide the winner. It is not decided by the number of nominations, but by the deed itself. I did it that way as only a few people may know what a member did behind the scenes to improve the overall experience for the chorus members.

Past Recipiants:
2002 - Cathy Evanoff (former member)
2003 - Julie Rushton (former member)
2004 - Donna Mortimer (former member)
2005 - Anna Carr (former member)
2006 - Ann-Marie Dube (former member)
2007 - Lynne Crellin (former member)
2008 - Janine Williams (former member)
2009 - Marleen van Baars (former member)
2010 - Samantha King
2011 - Val Magi (former member)
2012 – Mary Lew Montague
2013 - Wendy Pegg (former member)
2014 – Julia McGregor
2015 – Sherry McCarroll
2016 – Hilary Flynn
2017 – Bonnie Morton
2018 – Susanne Hasulo
2019 – Deanna Rimmer
2020 - Sandy McCreary

2021 - Kelly Thomas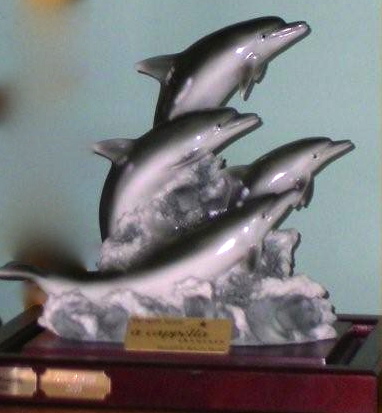 ---
2021 Recipient

As a charter member of A Cappella Showcase I have had the pleasure of knowing many of our members for a good many years and getting to know newer members of the chorus has been a joy over the past few years. I have known since the beginning that A Cappella Showcase is a very special group of women and this was brought home to me even more as I had the opportunity over the past few weeks to receive and review your nominations for this year's Spirit Award. I feel we could actually present this award to everyone in the chorus for one act of kindness or another towards each other. You are truly inspirational people.
We received nominations for the following members : Tori Amendola-Fehr, Tracey Beattie, Sue Boere, Char Grieg, Denise Keleher, Melanie Menzies, Angie Morton-Locke, Amy Patterson, Kelly Thomas, Jordan Travis and Liz Travis. Congratulations to every nominee, you and the things you do for ACS are recognized and seen by your fellow members. Thank you to the many members who took the time to send in nominations for the 20th presentation of the Spirit Award.
I am thankful to have had the support and guidance of a committee made up of the past recipients of this award as we reviewed the nominations put forward and I actually reached out to my dear friend Rob Barens who is the creator of this award to make the final decision. Rob received the reasons why people had nominated the people – her response to me was this – I looked at the nominations focussing on the deed itself and there was one that epitomized the spirit of this award to me". I am thankful that Rob made this choice because I feel we could say this about all the nominations received.
The recipient of this year's Spirit Award has been a member of the chorus for 23 years so I have known her for quite some time – she has always been willing to lend a hand in many ways over those 23 years because of her care and concern for ACS. She has served in a number of different positions within the chorus and has represented the chorus as a competing quartet member as well. I am also aware of her many quiet acts of kindness for members of the chorus both on and off of the risers.
Most of the hints after this will let you know pretty quickly who I am referring to but I would like you to hear more from the nominations received about her. She stepped forward and volunteered to be a member of our nominating committee this year when we were still in need of help with this initiative. She is busy with her job and family as well being a member of the Music Team and a member of the International Board of Directors for Harmony Inc. Now that last clue has most certainly given it away but I want to also include some of her actions over the past year that stood out to Rob and caused her to choose this nominee – On her own initiative she created a fantastic slideshow presentation that we all enjoyed last year at our first virtual Installation Evening and during the summer months, she kept her commitment to teach the chorus a camp song at a Zoom rehearsal by calling in to the meeting from the cottage. There are so many more things I could say about this kind and caring individual since I have known her all of her life and I am sure you all now understand why I felt it was best to turn the final decision making over the Rob this year. I am thrilled to make the twentieth presentation of the Spirit Award to Kelly Thomas.