Spirit Award
Tori was deeply moved as she received the 2022 Spirit Award presented by Kelly.


CRITERIA
From Roberta Barens, Feb 2015
The spirit award is intended to recognize a member of the chorus that quietly works behind the scenes to better the overall experience for the chorus members. She usually prefers to go about her business without looking for or wanting recognition.
Dolphins were chosen to symbolize this as they work together for the betterment of the whole pod. They play together, travel together, and work together for food. They look out for each other to stay safe and to assist each other.
This was established so that it can only be won once. (As we know, the same people tend to be the ones that could win it every year. I hoped the award could be a little incentive for a little more involvement by everyone for the chorus)
While everyone can nominate a fellow member, it is the previous winners that decide the winner. It is not decided by the number of nominations, but by the deed itself. I did it that way as only a few people may know what a member did behind the scenes to improve the overall experience for the chorus members.

Past Recipients:
2002 - Cathy Evanoff (former member)
2003 - Julie Rushton (former member)
2004 - Donna Mortimer (former member)
2005 - Anna Carr (former member)
2006 - Ann-Marie Dube (former member)
2007 - Lynne Crellin (former member)
2008 - Janine Williams (former member)
2009 - Marleen van Baars (former member)
2010 - Samantha King
2011 - Val Magi (former member)
2012 – Mary Lew Montague
2013 - Wendy Pegg (former member)
2014 – Julia McGregor
2015 – Sherry McCarroll
2016 – Hilary Flynn
2017 – Bonnie Morton
2018 – Susanne Hasulo
2019 – Deanna Rimmer
2020 - Sandy McCreary

2021 - Kelly Thomas

2022 - Tori Amendola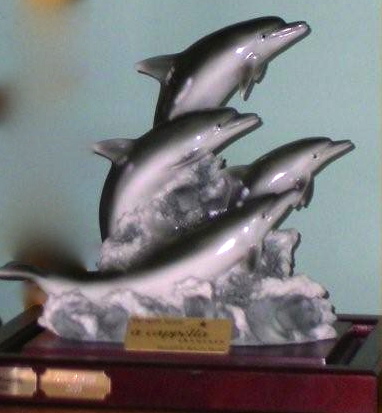 ---
2022 Recipient


Warmest and heartfelt congratulations to Tori Amendola, the 2022 recipient of the Spirit Award!

As mentioned by Kelly Thomas, last year's winner of this distinguished award, there are so many deserving members in our chorus who embody the qualities of this meaningful dolphin representation that it was a very difficult decision to make. This year, the following members were nominated by their peers: Sue Boere, Tracy Bradford, Debbie Glen, Char Greig, Linda Hartnell, Angie Morton- Locke, Theresa Major, Sarah Patterson, Susana Silva, Jordan Travis and Liz Travis. Congratulations to each and every one of the nominees for being so inspirational and for making our chorus work like a beautifully oiled harmony machine!

Among the nominations received for Tori from the members who took the time to write a few words about her dedication, her hard work and her love for our chorus, here a few that stand out: «She is concerned about others and goes out of her way to make sure everyone feels welcomed and included in the chorus.»; «Anytime the chorus travels, she often can be found quietly in the background researching ideas for tours and sightseeing, organizing room reservations, and booking dinner reservations, all to enhance the chorus members experience.»; «She takes time to get to know people and show she really cares.»; «This person is as a wonderful friend and a keen observer. She is a really good listener and fills a need whenever she sees one.»; «Anytime we have a themed event you can count on her to be 100% invested!»; «She often does thoughtful things for the chorus on her own initiative as well. Things like presenting all of us with "crowns" on our return from our last International, or making everyone little sea glass necklaces for all of us prior to a contest one year.»; «She is always smiling and SO enthusiastic – it's contagious!».

Among the glorifying words that describe Tori so well, the most touching ones were written by Myranda, her lovely daughter. «I've been singing with my mom at home forever. When it came to performances, I supported her at her chorus events and she supported me in my theatre productions. I'm so happy that we now get to share the same stage together doing something we both love. It's easy to see why my mom loves this hobby. All my life my mom has gone out of her way to do extra special things, so it's no surprise that she has been honoured in this way by the chorus!»

For all the many reasons mentioned above, Kelly was thrilled to present the 2022 Spirit Award to Tori Amendola!